Perry 1CR CR309/S Thermostat: Easy Programming for Efficient Heating Control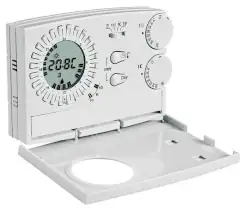 The Perry 1CR CR309/S thermostat is an older model still widely sold for its ease of programming and use. Its price is also very advantageous, providing a complete regulator to use with your heating system according to days and times and two temperature levels (Comfort and Economy).
The advantages of this thermostat undoubtedly include the ability to quickly change operating temperatures and the ability to copy the program from one day to the next.
The thermostat operates on batteries, which last for about 2 years, but we suggest replacing them every year.